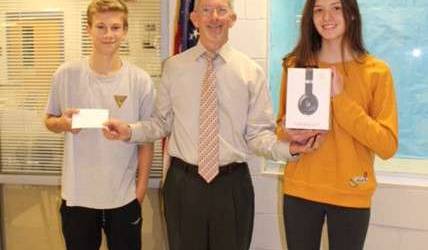 SPARTA – Support the Sparta Education Foundation (SEF) by downloading FireFan, a free mobile sports app that will donate funds to the Foundation when you play. Players can register on www.firefan.com by entering the code "SEF". They earn free chips by watching advertisements which are used to play games. The app tracks NFL games in real time, including the season playoffs and the upcoming 51st Super Bowl on Sunday, February 5.
"The FireFan app is even more fun to use as the Super Bowl approaches," said Danielle Dykstra, President of the SEF. "The principle is simple: the more people we have who register with our code, play the game and watch advertisements, the more money we can raise for public schools in Sparta. Just go to www.firefan.com and type in "SEF" to sign up and you can watch the biggest showdown of the season in the NFL.
Three winners who pre-registered for the FireFan app included Ellen Anderson who won an Apple Watch, Olivia Giralt, winner of the Beats Solo2 Luxe headset and Aiden Ryan, recipient of a $ 100 gift certificate to Krogh's. The Apple Watch and gift certificate were donated by Andy Garger, Beats headphones by Christian Blendinger, and banners for the event by Garger, Blendinger and Rob Daly. Each is a resident of Sparta and a partner of the company Play4YourCause, the company which pays donations from users of the FireFan application directly to SEF.
The FireFan app allows users to predict real-time results on match day with a series of game-related questions about which team will win, who will win the toss or how many yards will be gained in the next game . Players who predict correctly can redeem their loyalty points for merchandise like hats, jerseys, or match tickets. FireFan will initially follow NFL games, and sports will change over the seasons to include basketball, professional football, and baseball. Every time a player watches an advertisement and plays a game, money is collected for SEF.
The Sparta Education Foundation strengthens public schools, supports teachers and inspires students. Since 2006, they have donated over $ 775,000 in grants to the five public schools in Sparta. The Foundation is an independent, non-profit, all-volunteer organization whose mission is to engage the entire community in philanthropic giving. Visit spartaeducationfoundation.org for more information.