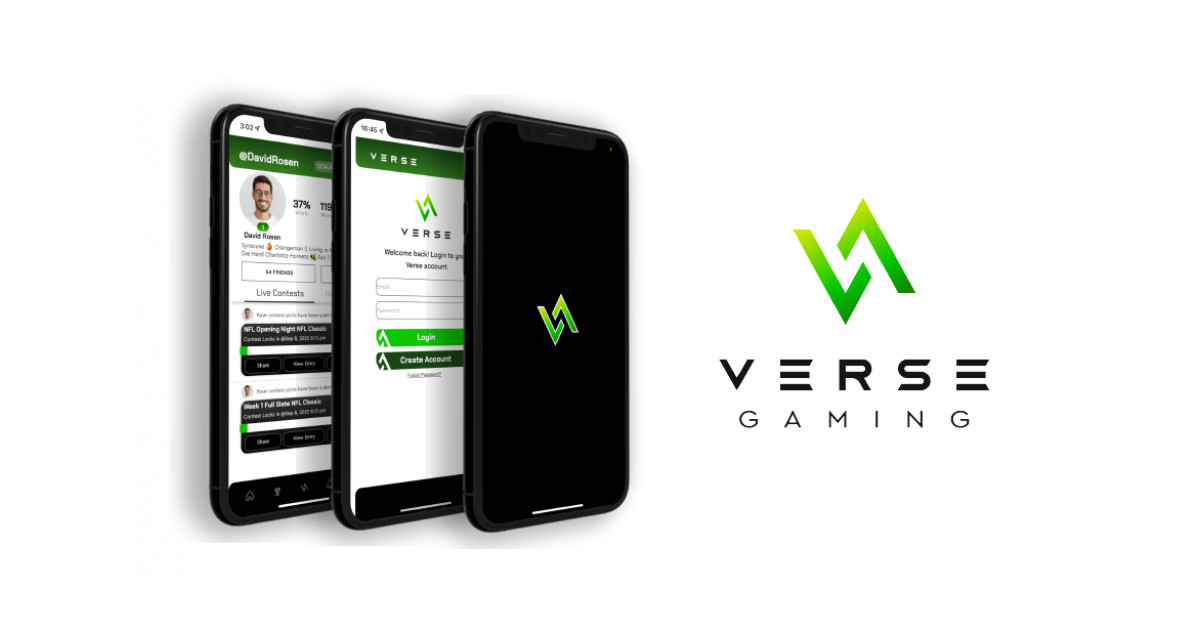 Brooklyn-based Verse Gaming announces the launch of its cutting-edge peer-2-peer fantasy platform following a $585,000 pre-seed funding round.
Press release
–

September 19, 2022 1:00 p.m. EDT
NEW YORK, September 19, 2022 (Newswire.com) –
Verse Gaming, an innovative new platform for users to compete in peer-2-peer sports and entertainment fantasy competitions, announced today that it has raised $585,000 in pre-seed funding. $ funded by private investors with participation from Rally Cry Ventures. This round of funding allowed the startup to further develop its platform after a solid year of beta testing, in addition to securing regulated access to US markets.
In addition to announcing its pre-seed funding, Verse also announced today the launch of its long-awaited mobile app. Downloadable in all 50 states, users nationwide will be able to participate in free game contests, make predictions on player performance, fantasy points, and season stats. Additionally, paid contests will be rolled out in 22 markets.
As a pioneer in the social gaming space, Verse offers gamers a customizable toolkit to create, play and manage real-money contests with profiles reminiscent of their favorite social media apps. Users enter contests with two or more choices on player performance projections. Games can be public for all users, or they can be limited to private invitation-only contests.
Verse Fantasy contests offer users an unprecedented amount of customization – giving users control over their contest title, player group, scoring system, number of choices, and more. Verse Fantasy also offers unparalleled customization in picks, allowing users to create blended rosters with player stat projections and fantasy points on almost any player suitable for any game.
This round of funding helped Verse build on the success of its beta testing – which saw just under a thousand testers play in over 11,000 contests, generating an in-app credit transaction volume of 120,000 $ – to provide users with a fantastic dynamic and social sports experience.
"Verse was created to fill a major oversight in the market – what if we could connect sports bettors, content creators and everyday fans by giving them a toolkit that allows them to create, share and participate instantly to fantastic contests?" shares CEO Dan Zimmermann, "How many of us watch great games with an open group chat, almost live tweeting amongst our group of friends. Verse makes daily fantasy contests with anyone as easy as do a group chat."
About Verse Gaming
Founded in July 2020, Verse Gaming is the social marketplace designed for peer-2-peer gaming.
The Brooklyn-based startup was developed by two Syracuse University students, David Rosen and Dan Zimmermann. After spending four years as affiliate content creators for Barstool Sports, the longtime friends founded their own company to serve the long-neglected side of the gaming industry – social gaming.
Download for iOS, Android or visit the desktop platform at www.versefantasysports.com.
Find out more at: www.versegaming.com
Follow Verse on Instagram and Twitter.
Press contact: Dan Zimmermann, co-founder and CEO | Dan@versegaming.com
Source: Verse Gaming Inc.