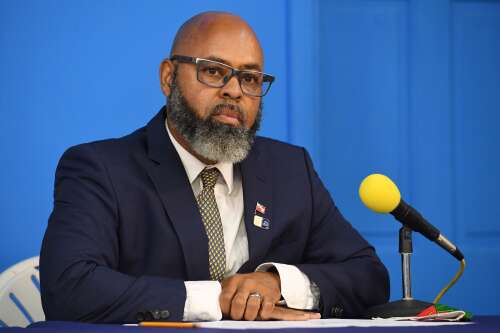 Updated: December 21, 2021 at 5:53 PM
Ernest Peets, Minister of Youth, Culture and Sports (file photo)
Group sizes allowed under large group exemptions have been reduced and additional restrictions have been placed on events already approved due to an increase in coronavirus infections.
At a press conference this afternoon on Covid, Ernest Peets, the Minister of Youth, Culture and Sports, said approvals for large groups would be limited to groups of 100 for events in outdoor or 50 for indoor events starting Thursday.
Events which are a mix of indoor and outdoor will be limited to 50 people.
Dr Peets said: "This will apply to all future applications for now.
"Previously approved events can continue with their approved numbers, although we recommend that event organizers keep group sizes as small as possible. "
He added that the exemptions approved earlier should follow the curfew and that events should end in time to allow people to return home before the curfew begins.
Dr Peets warned that people who attended big events – even those approved before the crackdown – should provide a clear antigen test taken that day in addition to a valid SafeKey.
"For sporting events, this means spectators have to produce both a SafeKey and an antigen test.
"For the sport group, made up of athletes and officials, the return-to-play testing framework will remain in effect as a requirement to train and compete."
Dr Peets added, "The ministry recognizes that some large group events were approved before announcing these protocols. We are very aware of the impact they can have on the organizers.
"However, these precautions are essential to ensure the safety of all of us, and antigen testing enables hosts and participants to practice personal responsibility and social solidarity to keep events safe."
He said the government takes action when it receives reports from the public that an event did not follow SafeKey's guidelines.
"I can assure you that the enforcement team, when notified of any shortcomings related to the proper implementation of SafeKey, these situations are addressed immediately.
"But of course we need the public to be aware of what is required and, when there are situations where it is not implemented properly, we are properly informed so that we can take the necessary action. . "
Dr Peets said the Covid-19 pandemic had severely affected cultural and sporting events over the past two years and that it was "disheartening" to have to impose further restrictions.
"My ministry fully appreciates the health and social benefits of sport and culture and their importance.
"Nonetheless, we have to balance this with the country's need to ensure the security of all."
More information on guidelines and conditions for large groups, including SafeKey requirements and guidelines for number of participants, is available online at www.gov.bm.